There are so many reasons why seniors who smoke should quit. One of them is that November is Lung Cancer Awareness Month. It's the best time for seniors to get proactive about their health and quit smoking. It can be very tough for seniors to quit smoking if they've been smoking for a long time. Maybe they have tried to quit before and couldn't. But there's no time like the present to try again. Seniors can use these tried and true tips to quit smoking this November:
Accountability Matters
Staying accountable is important when it comes to reaching goals. Seniors that really are committed to quit smoking should tell people their intention and have a senior home care provider or a family caregiver hold them accountable. Senior home care can be a big help to seniors that are trying to quit smoking because a care provider can be with them all day to provide encouragement and moral support.
Taper Off
Seniors who have been smoking for decades can't just quit. That's not healthy and it doesn't work. Instead of trying to go cold turkey seniors can taper off cigarettes slowly to quit and make it stick. Try cutting down by going every other hour without a cigarette. Once that's comfortable cut it down even more. The slow but sure approach is a great way to quit smoking for good without making the process too painful.
Wait Thirty Seconds
When seniors feel like they have to have a cigarette they can stop, pause, and wait thirty seconds. If they still want the cigarette after thirty seconds they can have it. But most of the time after thirty seconds of deep breathing seniors find they don't need the cigarette. What they really need is a break to collect themselves and the thirty seconds gives them that the break they need. It doesn't have to be thirty seconds, it can also be a full minute. But just stopping, taking some breaths, and waiting out the craving can be enough to make a senior not want to smoke.
Don't Keep Cigarettes In The House
If cigarettes are hard to get most of the time seniors won't bother doing what it takes to get them. Seniors who don't drive will need to either walk to the store or get a cab or arrange for a ride if they want to get cigarettes. That's such a hassle that they often won't bother. So not keeping cigarettes in the house is a great way to encourage a senior loved one to quit smoking.
If there are no cigarettes in the house your senior parent will need to really want one so badly that it's worth the hassles of getting dressed, finding transportation or walking to the store, and then getting home again. In most cases senior don't really want a cigarette badly enough to go through that bother. They may be cranky for awhile, but they will stop smoking.
If you or an aging loved one is considering senior home care in Napier, IL, please contact the caring staff at Suburban Home Care today. 630-964-9000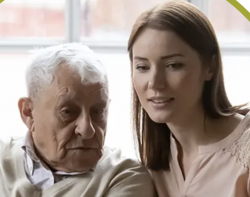 Latest posts by Suburban Home Care Staff
(see all)