24-Hour Home Care: It can be so difficult for aging family members to accept help, especially from home care providers.
But there may be some aspects of your senior's situation that means having help is very important for her right now. Here are some big reasons to consider getting help such as 24-Hour Home Care for your elderly family member.
Your Senior Has Help Right When She Needs It
One of the biggest benefits of 24-hour home care is that your elderly family member has help right there with her, and exactly when she needs it. Your senior may not need hands-on assistance every moment of every day. But what matters is that personalized care and assistance are right there for her when it is most important.
She Also Has Companionship
Caregivers also offer companionship that your elderly family member may have been missing in her daily life. Battling loneliness is crucial for seniors, both in terms of mental health and physical well-being. Loneliness and isolation can very quickly lead to depression and to physical health issues that are preventable. Having companionship available as needed can work against those problems.
She's Able to Stay in Her Own Home
Being able to stay in her own home can be huge for your elderly family member's physical and mental health. Aging in place allows her to be as comfortable as possible, in familiar surroundings. It also allows her to be as independent as she wants and is able to be. That can be huge in terms of supporting a high quality of life for your senior. She's also more likely to accept help.
24-Hour Home Care: You're Able to Feel More Comfortable about Her Situation
It's a lot easier to know your senior is really okay if you know she's got 24-hour home care services. As a family caregiver, there's a lot to worry about and to make sure is going exactly right for your senior. That's a lot of pressure. Being able to let someone else handle those concerns along with you allows you to take time away when you most need to do so.
Lots of aging adults are concerned that 24-Hour Home Care providers are there to police their behavior or to make them do things they don't want to do. That's not what happens at all, and it might help your senior to be able to take advantage of this help on a trial basis so that she can see how much it can do for her.
If you or an aging loved-one is considering  24-Hour Home Care in Westmont, IL, please contact the caring staff at Suburban Home Care today. 630-964-9000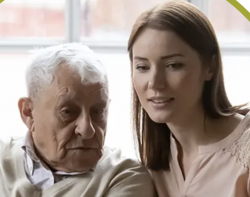 Latest posts by Suburban Home Care Staff
(see all)