The winter months provide some unique and special opportunities to get outside and enjoy the cold weather. During the holidays, there are light shows and Christmas concerts. After the first of the year, you might have fun winter festivals in your hometown or beautiful snowfalls that you'd love to take your senior out to see.
It might be tempting to stay home and keep warm during the coldest time of the year. But getting your senior out and about can help lift spirits and improve the mood that the cold, dark winter months often put people in. So, with a little safe planning, either your or your companion care at home team can safely bring your elderly loved one out this winter and keep her safe from the frigid temps.
Bundle up!
It goes without saying that your loved one should be properly bundled up for the colder temps. Look for clothes that are especially helpful in keeping warmth close to the body, such as wool and insulated clothing. Layers are always helpful, especially if your loved one is going between being inside and outside. That way layers can be removed (or unzipped) while inside, and then put back in place when outside.
Don't forget to get all areas covered, including wearing a hat, scarf, and mittens (mittens usually keep the hands much warmer than gloves). Before you head out, have your companion care at home team review your loved one's winter wear to make sure they're still ready for cold temps by being hole-free and intact.
If your loved one is wheelchair-bound, provide a warm blanket for her lap. Likewise, keep her feet warm with two pairs of socks (wool, if possible) and warm boots. She may not be walking, but frostbite sets in quickly on those areas when not used for movement,
Finally, when bundling up, go high-tech! There are some great products you can buy, such as hand warmers or a heated scarf.
Food and Drink Matter.
Being well-fed will help the body provide the fuel it needs to get warm. So if you'll be out for an extended amount of time, make sure your loved one has a good meal before she goes out. While drinking hot cocoa or coffee can help a person keep warm, stay away from alcohol. Because it often triggers heat loss. It tricks the body into thinking it's warm. Staying hydrated is also important for keeping warm. However, ensure she enjoys her cold beverages while she's still inside.
Watch medications.
Some medications make one more susceptible to the effects of the cold by lowering body temperature. If your loved one takes any of these, make the visit short or avoid it altogether.
Preparation will allow your loved one to enjoy the great outdoors with you or her companion care at home team while staying safe.
If you or an aging loved one is considering Companion Care at Home in Darien, IL, please contact the caring staff at Suburban Home Care today. 630-964-9000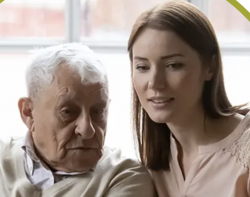 Latest posts by Suburban Home Care Staff
(see all)