February is Cancer Prevention Month. It's the perfect time for seniors to look at their lifestyle choices to see where they can make better ones. The lifestyle choices seniors make can significantly reduce their risk of getting some types of cancer. Since seniors have an increased cancer risk as they age, it's beneficial for them to take cancer preventative measures.
Stop Smoking
Any seniors that smoke should try to quit. Quitting smoking will reduce the risk of some types of cancer, as well as heart attacks and strokes. It can be tough for seniors to quit smoking if they have been smoking for a long time. But quitting is worth the effort. The body can start to repair the damage caused by smoking in just weeks after someone quits smoking. It's always worth it to quit. There are also medications and over the counter tools to help seniors quit smoking.
Lose Weight
Being a healthy weight can help seniors improve their overall health. It also helps lower their risk of developing serious medical conditions, like some cancers and Type 2 diabetes. Even though it can be tough for seniors to lose weight, because they may not exercise much, it's important that seniors try to lose weight. In-home care can help seniors lose weight by encouraging them to exercise as much as possible, going for walks with them, and helping them get to the gym. With in-home care, seniors are also more likely to not eat out of boredom.
Wear A Good Sunscreen
Skin cancer can be serious. As seniors age, their skin can be more affected by the UV rays of the sun, which can increase the risk of developing skin cancer. Seniors should wear a high quality sunscreen every day, even if they're not planning on going outdoors. On sunny days, the sun can still damage skin through windows. Likewise, seniors shouldn't skip the sunscreen on cloudy or overcast days. UV rays can still be damaging on cloudy days. Seniors should always wear sunscreen with a high SPF and reapply it throughout the day.
Eat A Healthy Diet 
Eating a healthy diet is also important for preventing cancer. Seniors should be eating meals that are mostly vegetables with some lean protein, like chicken or tofu. Limited grains are fine to eat, but seniors should regularly eat more vegetables than grains if they want to stay healthy. Eating a healthy diet is much easier for seniors who have in-home care, because that in-home care provider can help seniors shop for healthy foods and cook healthy meals, so they won't be tempted to eat a lot of snacks or sweets. It also helps that seniors will have someone there with them to share meals and make sure they don't eat too much.
If you or an aging loved one is considering In-Home Care in Wheaton, IL, please contact the caring staff at Suburban Home Care today. 630-964-9000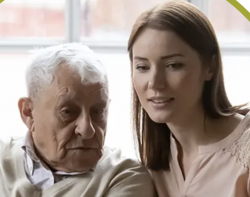 Latest posts by Suburban Home Care Staff
(see all)