September is Cholesterol Awareness Month. As your parent gets older, it's important to keep an eye on his cholesterol levels. If he has high cholesterol, he could develop fatty deposits in his blood vessels. Those deposits will grow over time, making it difficult for enough blood to flow through the arteries. Those deposits can break suddenly and form a clot that causes a heart attack or stroke.
September is Cholesterol Education Month, so it's a great month to look at which foods can help your parent maintain healthy levels of cholesterol. You can have his companion care at home providers work these foods into his diet if they help with meal prep. If you're lucky enough to have a companion care at home provider who takes your parent grocery shopping, add some of these to the list for the next shopping trip.
It's incredible how just a few tweaks and additions to your aging parent's diet will help him have healthy cholesterol levels again.
Add in some oatmeal
The next time your elderly parent has breakfast, make it a bowl of oatmeal. Oatmeal contains soluble fiber, which reduces "bad" cholesterol, otherwise known as LDL cholesterol. The fiber reduces the absorption into the bloodstream. Add some fruit, like bananas or blueberries, to make it even healthier.
Fatty fish for health
Fish that are high in omega-3 fatty acids are beneficial for reducing triglycerides, a type of fat found in the blood. It's important to buy and eat the correct kinds of fish to get this benefit. Have your companion care at home provider help your parent pick out salmon, tuna, and herring on the next shopping trip for upcoming meals.
Almonds, walnuts, and other nuts
Tree nuts can improve blood cholesterol with just a handful eaten a day. They can provide a good, quick snack for your parent that will hold him over to the next meal.
Add in some avocados
Avocados are a great source of monounsaturated fats. Adding just one a day can help improve LDL cholesterol levels in people who are overweight and obese. Instead of enjoying them with high-fat foods like chips, have your parent put some avocado in his salads or sandwiches. They can even be added to some soups to provide a sense of richness in taste.
Use olive oil in cooking
Have your parent start using olive oil in place of other fats in his diet. It might take a little getting used to, but olive oil adds a great flavor to many foods. Your parent and his companion care at home provider can saute vegetables in olive oil, add it to a marinade, or mix it with vinegar as a salad dressing. It's also great to use olive oil as a substitute for butter when basting meat or as a dip for bread.
These are just a few small changes your parent can make to his diet to help keep his cholesterol levels down.
If you or an aging loved one is considering Companion Care at Home in Naperville, IL, please contact the caring staff at Suburban Home Care today. 630-964-9000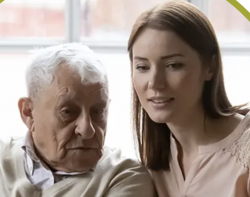 Latest posts by Suburban Home Care Staff
(see all)