The last Friday of February is "No One Eats Alone" Day, signifying the importance of sharing a meal. If your loved one has lost interest in food and is eating less, it may be because she is eating most meals alone.
When knowing that they have to eat alone, some people can become sad and depressed. Perhaps feeling lonely or forgotten. These emotions may then cause them to not want to eat. Or it creates an unpleasant meal environment so food doesn't taste as good or bring satisfaction.
You can help your loved one not only on No One Eats Alone Day, but also throughout the month. Just by using some of these tips you can sure she shares her meals with others.
Invite guests to join her.
Reach out to the people you know. Find out if you can have friends and family schedule meal dates with your loved one. They can choose if they want to go out to eat or eat at home. Where they eat doesn't matter, the benefits for your loved one will come from eating with someone.
While flexibility is great when planning these meal dates, having a consistent schedule (such as every Thursday, her friend comes over for lunch) will give your loved one something to look forward to and plan for. She can have her companion care at home team help her prepare the meal and clean up afterward. If she is meeting someone somewhere, her companion care at home provider can ensure she gets there safely.
Hire a meal companion.
Your companion care at home team can also enjoy meals with your loved one. They can visit, help make and eat the meal, and then help clean up. Having someone sit with your loved one may help her to eat more and digest her meal better.
Take her to community meals.
It could be a meal at her place of worship or a local senior center. But, don't miss the opportunity for her to share a meal with her peers. These events are great for networking and usually have great food.
Take advantage of technology
While it doesn't replace being there, if your loved one can turn on a video-sharing app (like Zoom meetings or Google meets), she can share a meal with her loved ones across the miles. Imagine having breakfast with the grandkids clear across the continent or enjoying lunch with a friend she hasn't seen in years.
Even holiday meals can be "shared" when families live far apart. It may not be as good as having someone physically there but she can still enjoy her meal while talking with family and watching the kids play.
If you or an aging loved one is considering Companion Care at Home in Lombard, IL, please contact the caring staff at Suburban Home Care today. 630-964-9000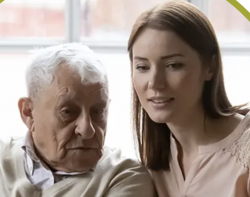 Latest posts by Suburban Home Care Staff
(see all)