In-Home Care: SAD, or seasonal affective disorder, is a specific type of depression.
It typically occurs for most people in the darker months of the year. Your elderly family member might be fine during the summer, for instance, but may seem like a different person when the days get darker.
What Is SAD?
Seasonal affective disorder is a type of depression that occurs during the fall, winter, and even early spring. It involves neurotransmitters and hormones that the brain isn't triggered to release as it should because those months tend to be darker. Some of the symptoms of SAD can include fatigue, trouble focusing, sadness, and even major depressive symptoms.
Your Senior May Be at Greater Risk of Developing SAD
Older adults could be at a much higher risk of developing SAD, chiefly because they tend to be at home alone more often. Your senior may also be dealing with other health issues that make managing mental health concerns fall farther down the "to do" list on a regular basis. Having in-home care assistance can help with that, but first, it's important to recognize what's going on.
Talk with Her Doctor
If you're noticing changes in your senior's moods or behaviors, talk with her doctor. It could be depression, it could be SAD, or it could be something else. It's important to get as full a picture as possible of what your elderly family member is dealing with so you can put the right solutions in place.
Consider Treatments that Might Help
Depending on the cause, there are a variety of treatments your senior's doctor might recommend. One big therapy for SAD involves light exposure. For some with SAD, just spending a few minutes each morning exposed to morning sunlight can do the trick. But for others, either getting in the sun isn't possible or there isn't enough sunlight to do the job properly. That's where therapeutic lights can help.
Get Other Kinds of Help, Too
Your senior may need other types of help, too. In-Home Care providers can help with setting up the lights, for instance, and making sure your senior is eating well on a regular basis. In-home care providers can be a crucial factor in making sure that your elderly family member is getting what she needs to treat SAD when she needs that help.
SAD can definitely be managed, but it's not something that necessarily disappears, especially with haphazard treatments. Consistency helps a great deal, which is another way that elder care providers can help.
If you or an aging loved-one is considering

In-Home Care in Burr Ridge, IL

, please contact the caring staff at Suburban Home Care today. 630-964-9000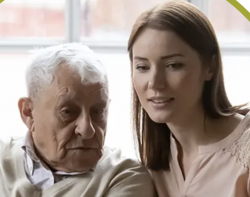 Latest posts by Suburban Home Care Staff
(see all)