Home Health Care: If your elderly family member is dealing with a bout of pneumonia, she might think at first that this is like any other sickness and that she'll be fine on her own.
The reality is that pneumonia takes an awful lot out of your senior and going this alone might even cause her to set her recovery back. Home health care might just be the answer she needs.
Recovering from Pneumonia at Home Is Possible
Your senior most likely won't need to go to the hospital due to pneumonia unless her case is a severe one. In most cases, your elderly family member will be able to recover at home. If she lives alone, then having someone there with her is a very good idea. Home health care providers can assist her in recovering and they can make sure that she has help when she needs it.
Signs of Worsening Pneumonia
It's vital that you and you're senior understand when pneumonia is getting much worse instead of better. If antibiotics aren't helping or if your senior still has a fever over 100 degrees Fahrenheit after starting antibiotics, she might need additional help. Contact her doctor right away if your senior starts coughing up blood or if her heart rate or blood pressure is extremely high. Home health care providers can monitor these signs for your senior, giving you both peace of mind.
Having Proper Nutrition and Plenty of Rest Matters
Part of what helps your elderly family member to recover from pneumonia is to have plenty of rest so that her body can heal. Her body also needs nutrients in order to repair and to rebuild the injuries from being so ill. Having someone there who can make sure that your senior is eating nutritious meals as often as possible can make a huge difference in her recovery.
Home Health Care Can Assist with Personal Care, Too
Pneumonia recovery takes a while for most people. That might mean that your senior is weaker than normal for longer than she anticipates. This makes getting dressed and taking a shower a lot tougher and if she tries to do this on her own, your senior can set back her recovery time considerably. Having help with personal care tasks is crucial.
Preventing pneumonia is always preferable, of course, but that's not always possible. Make sure that you and your senior understand what she needs and rely on help to make recovering easier.
If you or an aging loved-one is considering 

Home Health Care in Burr Ridge, IL

, please contact the caring staff at Suburban Home Care today. 630-964-9000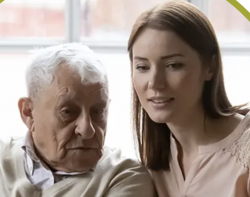 Latest posts by Suburban Home Care Staff
(see all)