Lyme disease is a disease that some people get when bitten by a deer tick that carries the bacteria that causes Lyme disease.
If Lyme Disease is caught early on, most people can get treated with an antibiotic that will wipe out the disease. But oftentimes, people don't realize they have been bitten by an infected tick until too late. The most commonly known indicator of being bitten by an infected tick, the bulls-eye rash that can appear anywhere on the body, actually only appears less than 30% of the time and often appears on a part of the body a person may not notice, such as the back or scalp.
If your parent suffers from chronic Lyme disease, you will want to work with your home health care provider to help her be as comfortable and pain-free as she can be while battling this condition and its symptoms.
1.) Finish all prescribed antibiotics.
Even if your parent is feeling better after a couple of weeks on antibiotics, it's imperative that she finishes the entire round of antibiotics, which may last as long as four weeks. A home health care provider can assist with medication distribution if your parent struggles with memory or consistency regarding taking her medications.
2.) Get plenty of sleep.
Poor sleep will aggravate the symptoms of chronic Lyme disease as well as extend the recovery time. Implementing some regular routines around bedtime will help your parent sleep better. Your parent may find relaxing music or a calming routine before she heads off to bed will help her sleep better. If she still needs assistance with sleeping, her doctor may prescribe a medication to help her get the sleep she needs.
3.) Manage the pain.
Chronic Lyme disease patients often have chronic joint and muscle pain, as well as headaches and dizziness. Your parent may want to look at natural ways to alleviate her pain, such as through herbs and meditation, or she might also need to inquire about prescriptions or over-the-counter medications to help her battle the pain she's experiencing.
4.) Reduce stress.
Stress is known to trigger some Lyme disease symptoms so help your parent reduce the stress in her life by removing stressful situations or providing ways for her to release that stress. It might be a good time to introduce yoga or meditation to your parent, or it could be as simple as her listening to some of her favorite music when stressed. If your parent finds herself getting stressed over household duties or driving, your home health care provider may be able to help with those tasks to reduce your parent's stress levels.
5.) Lyme Disease: Keep exercising.
While pain and fatigue may make it hard for your parent to get out and have aerobic exercise, just a half-hour walking around the neighborhood or swimming in the pool can bring relief to chronic Lyme disease symptoms by providing a distraction as well as building up the body's strength to fight off the bacteria.
The symptoms of chronic Lyme disease are often not physically visible and can only be felt by the person suffering from the condition. Being supportive of your parent as she lives with this condition will provide her the support she needs.
If you or an aging loved-one is considering Elderly Care in Darien, IL, please contact the caring staff at Suburban Home Care today. 630-964-9000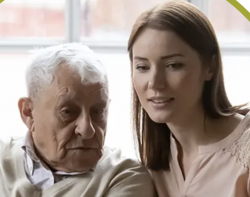 Latest posts by Suburban Home Care Staff
(see all)