Family Visits: As more people get vaccinated against COVID-19, you wonder if it's safe to start seeing your parents again?
Your family wants to gather for the first time in over a year. What steps should you take to ensure your parents remain safe?
Everyone Needs to Be Vaccinated and Follow Safety Measures
Everyone who sees your parents should be vaccinated. If that's not possible, they need to have self-isolated for a couple of weeks. If grandchildren want to visit, they need to have not been in a classroom with other children. The chances of them being asymptomatic is too high a risk.
People who plan to spend time at this gathering need to have followed safe practices. They still need to wear a mask when in a crowded location. They need to keep washing hands and maintaining a safe distance.
Limit the Numbers
It's tempting to have everyone gather at once but consider having several gatherings. Space them out over time. The immediate family could visit one weekend. Aunts and uncles could visit the next. Keep the groups to a smaller size for now.
Your parents have a dining room or patio table that seats eight. Consider keeping gatherings to six people to ensure people have room to spread out.
Use Common Sense
While you're limiting the numbers, everyone needs to use common sense, too. If your aunt and uncle just came back from a trip to another country, they should stay home and self-quarantine for two weeks. They need to make sure they didn't contract the virus while on vacation.
Family Visits: Hold Outdoor Events
Instead of gathering in your parents' dining room, have the meal outside. Set up extra folding tables and chairs or spread picnic blankets. There's more room for germs to travel in the open air, and there's also the benefit of the sun's UV rays to help keep the spread of germs to a minimum.
Even with the vaccine, it's possible to contract the virus. If you know you've been around someone with COVID or feel sick, stay home. Don't put your parents at risk. It's better to wait another few weeks for family visits, to ensure they're safe and healthy. Family caregivers need to have a backup plan for care needs.
Call an elder care agency to have caregivers sent to your mom and dad's home. The caregiver can stop by and help out until you're feeling better or able to continue the family visits. It's easy to arrange elder care services. It's one of the most important things to do to keep from spreading the virus.
If you or an aging loved-one is considering Home Health Care in Glen Ellyn, IL, please contact the caring staff at Suburban Home Care today. 630-964-9000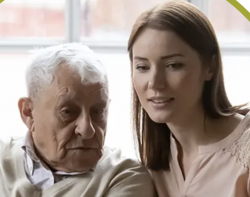 Latest posts by Suburban Home Care Staff
(see all)