Are you or a loved one starting to need a little extra help, but you aren't ready for an assisted living facility or nursing home? If so, elderly companion care may be an excellent option. Companion care services for seniors are an increasingly popular way to help older adults stay in their own homes.
If this is your first time looking into home companion care, you may have many questions.
What does companion care mean?
How much does companion care cost?
What are companion duties?
Read on for answers to all these questions and more information on companion care at home.
What Is Companion Care for the Elderly?
Companion care is a type of home care that provides non-medical services for senior citizens or adults with disabilities. Older adults often struggle with things like loneliness, housekeeping, and getting to appointments. Companion care helps handle some of these things to keep people in their homes longer.
"Companion care provides non-medical services for senior citizens or people with disabilities."
Companion Caregiving vs. Personal Caregiving
While some people use the terms "companion caregiving" and "personal caregiving" interchangeably, they offer different levels of care. Companion caregiving provides companionship, light housekeeping, rides to appointments, and other non-medical types of care. Personal caregiving offers all that in addition to helping with activities of daily living (ADLs) such as bathing, dressing, toileting, and feeding.
What Is the Difference Between a Companion and a Caregiver?
In short, companions offer non-medical home care such as transportation, companionship, and light housekeeping.
On the other hand, caregivers offer light medical care such as medication monitoring, taking basic vital signs like blood pressure or temperature, and assisting with ADLs. Personal caregivers have formal training. Typically, they are Certified Nursing Assistants (CNAs) or Home Health Aides (HHAs).
How Home Companion Care Works
Home care companion services allow people to stay in their homes longer by handling light housekeeping tasks, running errands, providing transportation, and offering companionship. The companion typically comes to the home on a set schedule, whether that's a few hours a week or every day.
What Are the Duties of a Companion?
Companion duties will vary depending on the needs of the client, but they may include:
Companionship
Light housekeeping such as dusting, organizing, and cleaning
Cooking and cleaning up after the meal
Running errands such as picking up medications or groceries
Transportation for appointments and errands
Doing the laundry
Playing games together or reading aloud
Communicating with family members
On the other hand, companions do NOT help with activities of daily living such as toileting, dressing, feeding, or bathing.
Cost of Companion Care
The national monthly average cost of companion care, based on 44 hours a week of care, was $4,481 for homemaker services (companion care) and $4,576 for a home health aide (personal caregiver) in 2020 (1). That's an average hourly rate of $23.50 for companion care services and $24 for home health aides.
Costs vary by state, of course. Louisiana averages $17 an hour for both homemakers and home health aides, while it's an average of $29 an hour for both in California.
Does Medicare Cover Companion Care?
No, Medicare does not cover companion care if it is the only care you need (2). Medicare only covers home health care if:
You are homebound, AND
You're getting services under a care plan created and reviewed regularly by a doctor, AND
You need intermittent skilled nursing care (other than drawing blood), speech-language pathology, physical therapy, or continued occupational therapy services.
However, some Medicare Supplement and Medicare Advantage plans may cover in-home care services. You should review the details of your supplemental insurance to see whether companion care is included.
Benefits of Companion Care
Companion care offers a wide variety of benefits. As the name implies, the best benefit is companionship. It's more important than you might think. Humans are social creatures, and seniors tend to be isolated and lonely, which can impact their mental health.
In one study, Lijun Liu, Zhenggang Gou, and Junnan Zuo concluded that:
"Social support partially mediates loneliness and depression (3)."
Minimizing or preventing loneliness and depression are some of the best benefits of companion care, but they aren't the only ones. Other benefits of companion care include:
Seniors can stay in their homes longer and age in place without needing to go to an assisted living facility or nursing home.
The senior's loved ones know they're being taken care of when they can't be there.
Seniors no longer need to worry about some tasks that have become too difficult to keep up with.
It's easier for seniors to travel to appointments and run other errands.
Family members no longer have the stress of handling these duties themselves all the time.
Seniors are better able to keep their routines.
How to Choose the Right Caregiver
According to the Mayo Clinic (4), these are some of the questions you should ask to find the right caregiver:
"Can the caregiver provide references from at least two previous clients or employers?"
"What are the caregiver's credentials? Do they have any licenses?"
"How do you handle billing and expenses?"
"Is the agency licensed by the state?"
"When will services be provided?"
"Is the agency certified by Medicare to meet federal requirements for safety and health?"
"What kind of employee screening do you do?"
Does Your Loved One Need Companion Care Services?
Is your loved one experiencing reduced mobility or cognitive decline due to Alzheimer's or dementia?
Do they seem to be lonely or struggle to keep up with things like housekeeping?
Are you worried about them being alone all day long?
Are you unable to spend as much time with your loved one as you would like?
There are many reasons your loved one may need companion care. Whatever the reason, companion care is often the first step toward providing assistance to your loved one while they get to stay at home and avoid the disruption of moving to an assisted living facility or nursing home.
If you're searching for the right companion care provider, let us help you. We know how important it is to find the right match for your needs. Contact us today to learn more about our companion care services.
Suburban Home Care
5111 Main Street, # 200
Downers Grove, IL 60515
Phone: 630.964.9000
References
Genworth, Cost of Care Survey, https://www.genworth.com/aging-and-you/finances/cost-of-care.html
gov, Home Health Services, https://www.medicare.gov/coverage/home-health-services
Lijun Liu, Zhenggang Gou, and Junnan Zuo, Social support mediates loneliness and depression in elderly people, https://pubmed.ncbi.nlm.nih.gov/24925547/
Mayo Clinic, Home Care Services: Questions to Ask, https://www.mayoclinic.org/healthy-lifestyle/healthy-aging/in-depth/home-care-services/art-20044609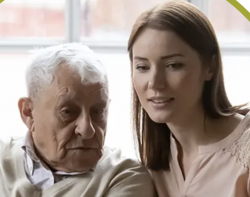 Latest posts by Suburban Home Care Staff
(see all)