Home Care Assistance: Whether your senior is recovering from a major illness, surgery, or something else, it's important to look at all the ways to maximize healing and recovery for her.
Home health care might be an option that you've both been overlooking. Here's what you need to know in order to know whether this type of home care assistance is the right one for your senior.
Home Health Care Might Keep Your Senior Out of the Hospital
One of the biggest reasons for you and you're senior to embrace home health care services is that your senior wants to stay out of the hospital. Most of your senior's health issues, particularly chronic health issues, are much easier to manage consistently on a regular basis. If she's not able to do that on her own, that creates problems that can very quickly lead to much worse symptoms. Home testing, a proper diet, and monitoring symptoms are all ways that home health care providers help your senior avoid the hospital.
Your Senior Can Get All Sorts of Help at Home
There might be some other challenges that your senior is facing, too, such as mobility or regaining skills after an acute health issue like a stroke. Additional help from occupational or physical therapists can make a huge difference. But there are other types of help, too. And your elderly family member doesn't have to go anywhere to receive this help. Therapists and providers can come to your elderly family member, helping her in her own home.
Home Care Assistance: Home Health Care Works with Your Senior's Medical Team
You or your senior might worry that these services replace your senior's current medical care. But that's not true at all. Home health care providers work closely with your elderly family member's doctors and specialists to make sure that she's getting the exact care that she needs to support her overall health and well-being. If your elderly family member begins to need other types of help or medical support, that's entirely possible, too, and her medical team will be part of that decision.
When you and your elderly family member have a better understanding of what home health care offers and does for her, it is a lot easier to see how important it can be. Home health care can offer your senior ways to ensure that she's got everything that she needs in order to meet her health goals as well as her personal goals. Call a home care agency today to see what home care assistance you may need.
If you or an aging loved-one is considering  Home Care Assistance in Burr Ridge, IL, please contact the caring staff at Suburban Home Care today. 630-964-9000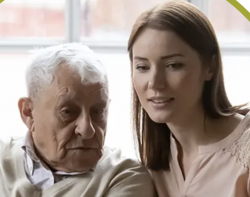 Latest posts by Suburban Home Care Staff
(see all)