Home Care: An estimated 53 million adults provide care to another person. Of those unpaid caregivers, almost 39 million care for an adult.
There's another aspect to being a family caregiver that can be even more challenging. People in the sandwich generation have children at home while also caring for their parents. Another 9 million care for both an adult and child at the same time. It can be overwhelming. Home care should be a consideration at this time.
Your parents need help, and you're already home with a child. Your brothers and sisters all feel you're the best choice to provide the care your parents need. You're not sure you can handle everything. How do you open up and admit you can't care for your parents?
Hold a Family Meeting
It's time, to be honest. Sit down with others in your family and talk about the care your parents require. If your parents cannot drive, they'll need someone to take them to appointments during the week. They'll need rides to grocery stores, pharmacies, senior centers, and local attractions. If they live an hour from the city, you're spending hours each week on transportation alone.
You also have the help they need with medication reminders, housework, meals and snacks, and personal care. Come up with a total number of hours the care they need will take. Compare this to your other responsibilities, such as taking your children to school, cleaning your home, and having time to socialize. Show how little time you have to invest in your parents' care.
Find Out If Others Are Chipping In
The other consideration is what others are offering to do. Your brother has Fridays off, but he's saying he needs that day to run errands for himself. If he's not helping your parents, why is he expecting you to provide their care?
Your sister works near a pharmacy. Does she pick up your parents' refills and deliver them? If not, why isn't she?
Sometimes, family members are so focused on their own lives that they forget someone else also has things to do. Remind your family that you have a life, too.
Hire Home Care Aides
Home care services help with the care needs you don't feel equipped to handle. You're busy with your children, household maintenance, and personal life. You cannot add another responsibility to your list. It's okay to say no.
You may have the time to help out, but there are tasks you just cannot handle. If your dad needs help with toileting, and you cringe when you think of it, caregivers can help. People have limitations, and it's not a bad thing to admit something is beyond your capabilities. Learn more about home care by calling a home care agency.
If you or an aging loved-one is considering  Home Care in Glen Ellyn, IL, please contact the caring staff at Suburban Home Care today. 630-964-9000
Sources: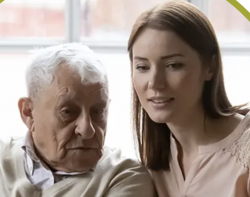 Latest posts by Suburban Home Care Staff
(see all)