Beautiful in Your Skin Month comes around every June and that makes this time of year a perfect time to take a closer look at your senior's skincare routine. If her current skincare routine is just not working for her, or she really doesn't have one, these tips can help her and her personal care at home provider.
Avoid Physical Exfoliators
Physical exfoliation involves using physical friction in order to remove dead skin cells. That process can happen with something like a brush or it could happen with any type of skin scrub. These use particles, like salt, sugar, or ground-up seeds or nut shells to exfoliate the skin. Chemical exfoliants use ingredients like salicylic acid to accomplish the same thing. It's easy to go overboard with physical exfoliators, especially on older skin that might be thinner and more sensitive.
Find a Great Cleanser
Cleansing is one of the most important steps in taking care of your senior's skin. But cleansers that worked for her in the past might be harsher than she needs right now. Look for a cleanser that is non-comedogenic, meaning it won't clog pores. Cream cleansers are more likely to be moisturizing and less likely to strip oils that protect the skin.
Use Sunscreen Every Day
Sunscreen is a must, every day. This is especially true if your elderly family member is at a greater risk of developing skin cancer. Find a broad-spectrum sunscreen that protects against both UVA and UVB rays. Mineral sunscreens are probably a better bet, too. There are plenty of day moisturizers available that include sunscreen, so that can eliminate an extra step.
Keep Baths and Showers Shorter and Cooler
If your elderly family member tends to choose hot water for her baths or showers, it might be a better idea to back down that temperature a bit. Hot water is drying for the skin, and your senior might already be having enough trouble with dry skin. And if bathing is more difficult than it used to be, personal care at home can help your senior to be safe while bathing.
Pat Skin Dry
Instead of rubbing with a towel to dry her skin, it's much better for your senior to pat her skin dry. Even the softest towel can cause skin irritation. Your elderly family member may have had no trouble in the past drying her skin however she wanted, but it can make a big difference for her now. And with skin irritation, your elderly family member can experience bigger trouble.
Inspect Skin Regularly for Signs of Trouble
It's also a good idea for your senior to stay on top of inspecting her skin. If that's difficult for her to do on her own, personal care at home can ensure that the task is getting handled. Home care providers are able to watch out for signs of infection or irritation and help your senior to get the attention she needs for those issues.
Proper skin care is really all about habits. The habits your senior needs now might just be different than the ones she's had in the past.
If you or an aging loved-one is considering Personal Care at Home Burr Ridge, IL, please contact the caring staff at Suburban Home Care today. 630-964-9000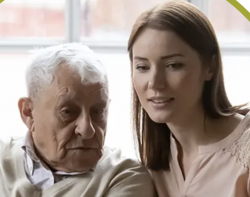 Latest posts by Suburban Home Care Staff
(see all)