Glaucoma is a severe eye disease that affects many people every year. The more you and your senior understand glaucoma and how to recognize it, the easier it will hopefully be to avoid the more significant impacts of the disease, including vision loss. Here's what you and your senior need to know to be as prepared as possible.
Glaucoma Is a Leading Cause of Blindness
Glaucoma is an eye condition that can affect anyone of any age. It's much more common in aging adults, however. Glaucoma causes damage to the optic nerve, most commonly through increased pressure in the eye itself. Not all forms of glaucoma have increased pressure in the eye, however. Over time, glaucoma causes vision loss. Once vision is lost from glaucoma, it cannot be reversed even if the glaucoma is treated.
Signs of Glaucoma
Many types of glaucoma do not have any symptoms. That allows this eye disease to sneak up on countless people every year. In later stages, your senior may notice that she's experiencing tunnel vision or blind spots throughout her field of vision. Other signs of glaucoma can include headaches, nausea and vomiting, pain in the eyes, and blurred vision. Your senior's eye doctor can diagnose glaucoma reasonably early, so your senior needs to attend her eye appointments regularly.
Can Glaucoma Be Prevented?
Preventing glaucoma involves a few different steps. The most important factor is one we mentioned already. Getting your senior's eyes examined regularly ensures that your eye doctor can notice changes in her eyes, including pressure. If your senior has a family history of glaucoma, she's much more likely to develop glaucoma herself. Lifestyle changes, like eating healthfully, exercising regularly, and protecting her eyes can all help your senior avoid glaucoma.
Living with and Treating Glaucoma
Glaucoma treatments typically attempt to reduce pressure in the eye and help minimize damage to the optic nerve. The earlier treatment begins, the more successful it is likely to be. Your senior's eye doctor may prescribe medications or even recommend surgeries to help treat glaucoma. Your elderly family member will need glaucoma treatment for the rest of her life, even if the condition slows down enough that she no longer recognizes any signs of glaucoma.
Prioritizing Safety for Your Senior
If your elderly family member has been diagnosed with glaucoma, home care assistance can be a lot of help. Elder care providers can ensure that your senior's home is as safe and tidy as possible, which can help her avoid the complications of a fall. Home care assistance can also help your senior to remember to eat healthy meals, exercise, and follow the rest of her care plan.
Avoiding or at least slowing down glaucoma is always preferred. If your elderly family member doesn't take steps to reduce the impact of glaucoma on her life, she's unfortunately on the road to losing her vision entirely.
If you or an aging loved-one is considering Home Care Assistance in Westmont, IL, please contact the caring staff at Suburban Home Care today. 630-964-9000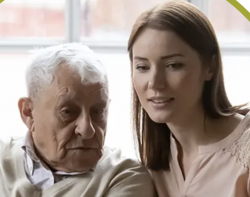 Latest posts by Suburban Home Care Staff
(see all)