When a senior citizen gets diagnosed with Alzheimer's disease, family members of this person often decide to care for them in their home for as long as they can. Suppose your elderly loved one can have the comfortability of their environment. In that case, it can slow down the progression of the disease and help you handle difficulties better as they arise. While every day will have a set of challenges and behaviors, the home environment is usually best for those with Alzheimer's. With this being said, your elderly loved one will likely also need Alzheimer's home care services to help with their care plan and strategies.
Creating Daily Routines
One of the ways that Alzheimer's home care providers can help someone with this disease is by assisting them in creating daily routines. Studies show that Alzheimer's patients with a daily routine are much less moody and have fewer behavioral issues. Not only that, but by setting your elderly loved one up with daily routines, it can be much easier to manage their care plan because all the caregivers will know what to do.
Better Communication
Another way that Alzheimer's home care providers can also help care for your elderly loved one is by communicating with them. Practicing with them will also help improve your loved one's communication skills. Then, your loved one can communicate better with you, other family members, friends, and their providers.
Adapting Daily Living Activities
Hiring senior home care providers to help your elderly loved one with Alzheimer's can help your loved one adapt to daily living activities. As the disease progresses, there are going to be certain daily living activities that are more difficult. Bathing, eating, getting dressed, and using the toilet become challenging. Your concern about your elderly loved one's ability to do any of these daily living activities alone is a sign to find Alzheimer's home care services.
Conclusion
Do you have an elderly loved one diagnosed with Alzheimer's? If so, now would be a great time to show them that you want what is best for them. Even if you have been doing a great job taking care of your elderly loved one, it is essential to realize just how many benefits can come from getting your elderly loved one senior care services.
Do you need to learn more about how Alzheimer's home care providers will work with your elderly loved one and help with the disease? If so, contact us today to get more details.
If you or an aging loved one is considering Alzheimer's Care in Oak Brook, IL, please contact the caring staff at Suburban Home Care today. 630-964-9000
Sources
https://www.nia.nih.gov/health/alzheimers-disease-fact-sheet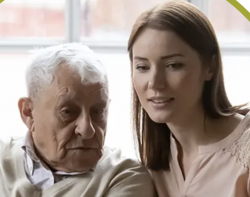 Latest posts by Suburban Home Care Staff
(see all)