24-Hour Home Care: Holidays are coming up and it is important to spend this time with your family including seniors.
24-hour home care can help the seniors get from place to place and ensure they have the proper transportation to and from your house. Even seniors with mobility issues can enjoy the holidays with you. 24-hour home care allows a senior to live on their own but still be able to participate in the things they love. There is a lot more freedom in using caregivers than sending a senior to a community.
Many seniors prefer aging in place but this does not mean they should spend the holidays alone. 24-hour home care can make it special and even help a senior decorate their home to get in the spirit. You can play your part by ensuring they come to family meals or you go there for family dinners with your kids.
If you plan on having everyone over to your house for the holidays there are some crucial things to keep in mind when planning. If your senior has mobility issues you will need to leave clear walking paths and maybe even enough room for a walker or wheelchair. You can invite the 24-hour home care specialist over to help the senior move around and join in on the activities.
Clear Clutter
One of the biggest things you should worry about when having your parents over is clutter. This can be dangerous if a senior is uncoordinated or cannot see well on top of mobility issues. Having clutter in hallways, bathrooms, or floors can be a huge hazard for seniors. Some may not be able to see on the floor due to walkers or wheelchairs. Cleaning your home and clearing areas will be one of the first things to think about when having your loved one over for the holidays.
No Loose Wires
During the holidays, you may have lights up and dangling, but it will be important to have no wires running across the ground. This could trip someone and severely hurt any senior walking through your home. Even worse, it could get caught on the wheels of a wheelchair, which can be just as dangerous. If you can't get rid of the loose wires, tape them on the floor, so it stays down.
A Sitting Area
Ensure there is a sitting area. Some seniors may be able to move around but need a lot of sitting time. It will be important to have an easily accessible seating area for the seniors to lounge and take breaks during the event. If you do invite the 24-hour home care assistant, they can do the running around while the senior lounges.
One thing that is often overlooked is icy pathways. This can be hard for a senior to walk on, especially if they have lost their balance, but this is also incredibly hard for a wheelchair to get across. During the holidays, try to limit the ice on the walkways by using road salt.

If you or an aging loved-one is considering

24-Hour Home Care in Lombard, IL

, please contact the caring staff at Suburban Home Care today. 630-964-9000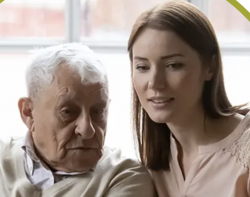 Latest posts by Suburban Home Care Staff
(see all)